Corrensa is a plugin connecting VTiger CRM to your Outlook(Desktop). The extension comes in the from of a toolbar/widget on the outlook interface and displays the information from VTiger with ability to view, edit & create records.
The installation process is very simple!
Sign up/Install Extension/Adapter for VTiger
If you received an email with  instructions on how to install Outlook Plugin for VTiger , it's likely that your system/VTiger Administrator has already installed Corrensa Adapter/Extension on VTiger and you no longer need to do this. In this case, skip this step.
If you are just starting with Corrensa  – go to our "Get Started" page to download and install adapter/extension on VTiger.
Requirements
Before you start, there's few things you should know:
Corrensa is currently compatible with Outlook 2010/2013/2016 (32/64 Bit).
Corrensa is compatible with VTiger 6.0, 6.1, 6.2, 6.3, 6.4, 6.5, 7.0, 7.1 open source version. The On-Demand version is currently not supported.
Net Framework is required to run Outlook addons, and it is likely that you already have it installed, assuming your windows & updates are current, however it's recommended that you download the latest version. Click here for direct link to Net Framework 4.5.
Visual Studio 2010+ Tools for Office Runtime is required to run Microsoft Office based solutions(Outlook addin). Click here for direct link.
Install Outlook Plugin
The installation process is simple, first you need to download the setup file:
Outlook Plugin Download: Click here to download 32bit version or click here to download 64bit version.

Once downloaded, run the setup file and proceed with the setup. (Note, Chrome browser might see as "not commonly downloaded file", so you will have to click on it and "Keep" the file)
Accept the Terms & Conditions
Specify folder to install the plugin (default is recommended)
Finish the setup

Open Outlook and you will see Corrensa toolbar on the right. Expand it by clicking on the icon and input your VTiger URL/Link, Username & Password and start using it!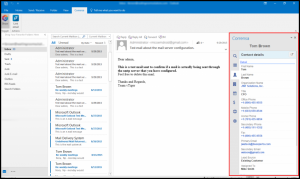 That's it! If you have any questions or issues getting it installed – please contact us!
Make sure to check out this this 3 minute video on how to use Corrensa!
YouTube video: https://youtu.be/7sNikAQLFk4
Additional Information for Administrators
Corrensa is completely customizable – meaning that you can:
Add/Remove Custom Fields
Rename Fields & Blocks
Adjust the Layout/Field Order on the Toolbar
Configure Search Fields
Activate/Deactivate Users
You can find the documentation here: https://www.corrensa.com/documentation/
There's also a tutorial video on how to Customize & Configure Corrensa: https://youtu.be/lgvqtjoBK5w
Thanks!