Corrensa is a plugin connecting VTiger CRM to your Office 365 Email. The extension comes in the from of a toolbar/widget on the email interface and displays the information from VTiger with ability to view, edit & create records.
The installation process is very simple!
Install Extension/Adapter for VTiger
If you are just starting with Corrensa  – go to our "Get Started" page to download and install adapter/extension on VTiger. This has to be done by VTiger administrator. If you've already done this – please proceed to the next step.
Install Free Chrome Extension
Corrensa is only compatible with Google Chrome browser. It will not work on Firefox, IE or Safari.
Click on the link below, which will take you to Google Chrome Store.
https://chrome.google.com/webstore/detail/vtiger-gmail-office-plugi/dbmoppjdgnllfpjkggpoeldpojfjplgl
Click

+  ADD TO CHROME

to install the extension.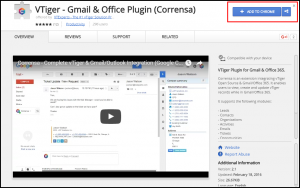 Once the extension has been added, refresh your Office 365/Outlook.com Email page and you will see Corrensa toolbar on the right. Expand it by clicking on the icon and input your VTiger URL/Link, Username & Access key and start using it! (How to locate my access key?)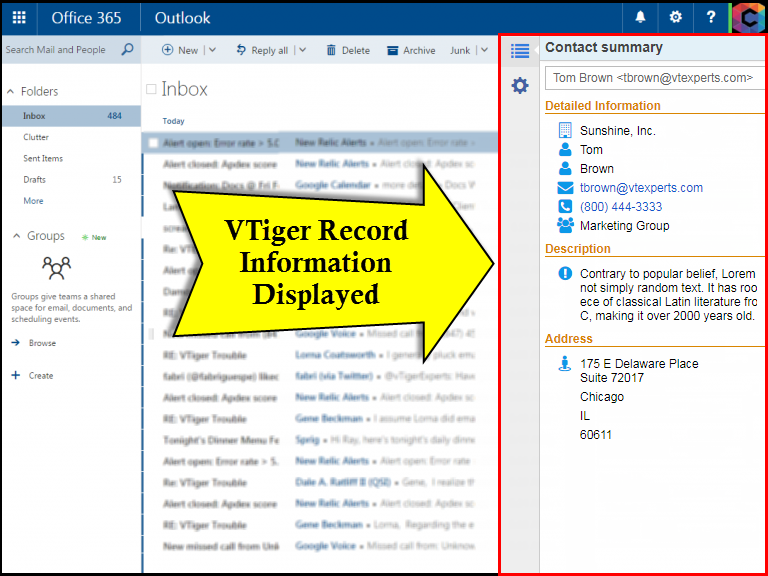 That's it! If you have any questions or issues getting it installed – please contact us!
Thanks!