Boost Your Email Productivity
It's time to optimize the way you work in your email so you can focus less on busy work and more on selling.
Add, View & Edit VTiger Records
Attach Emails to Contacts/Leads/Tickets,etc..
Attach Documents/Files without leaving email
Smart Search Built Into The Plugin
Automated Record Lookup (Based on Email)
2 Intuitive Views (Summary/Detail)
Supports Standard & Custom Fields
Configurable Fields & Blocks
Configurable Smart Search Fields
White Label Available Upon Request
Automatic Updates
Supports Outlook, Gmail & Office 365
Supports VTiger Open Source 6.x & 7.x
Supports Most VTiger Core Modules
Takes Less Than 2 Minutes to Setup
Works Out of The Box (No Configuration)
US Based Chat/Phone Support
Contacts/Leads & Organizations
Intuitive summary view displays key record information as well as related tickets & opportunities with ability to click in and edit/view.
Summary
The most important
record information summarized
in an easy to read view. Related records such as Tickets, Opportunities are displayed.
Tip: You can configure what fields are displayed, including custom fields & icons. (Configured in admin area).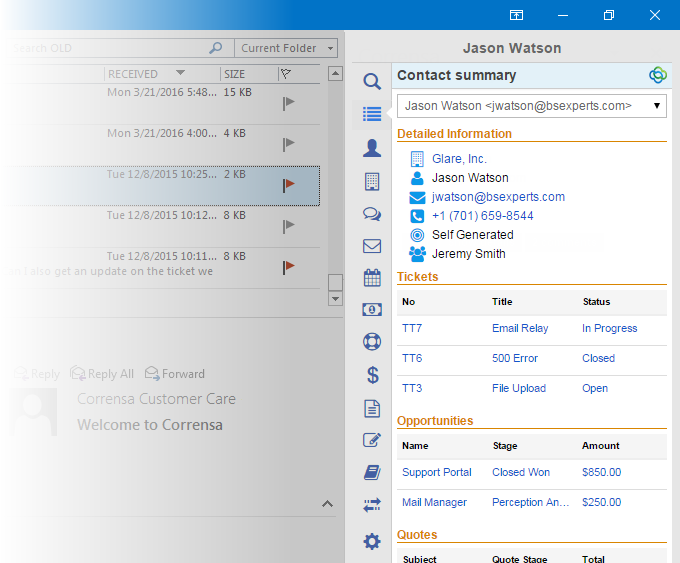 ---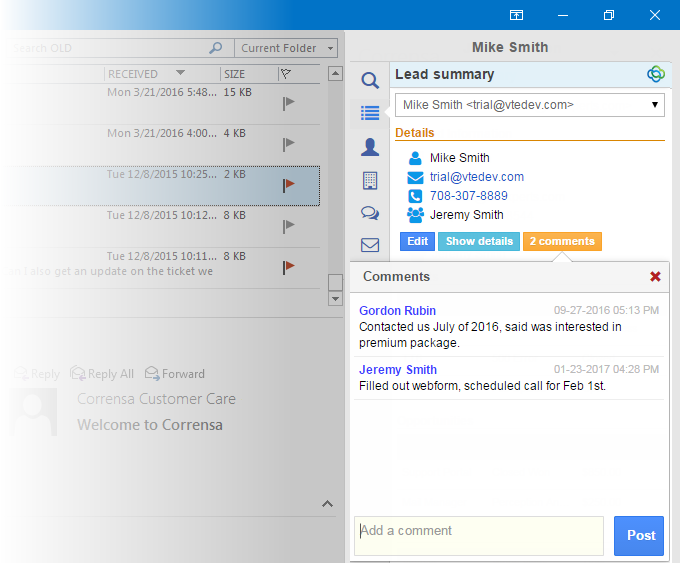 Comments
View & Add Comments
to Leads and Contacts without ever leaving your Outlook/Gmail.
---
Create & Edit
Edit existing and create new VTiger leads & contacts
with a single click.
Hint: Person information such as name, email, phone is automatically pre-filled from email header/signature.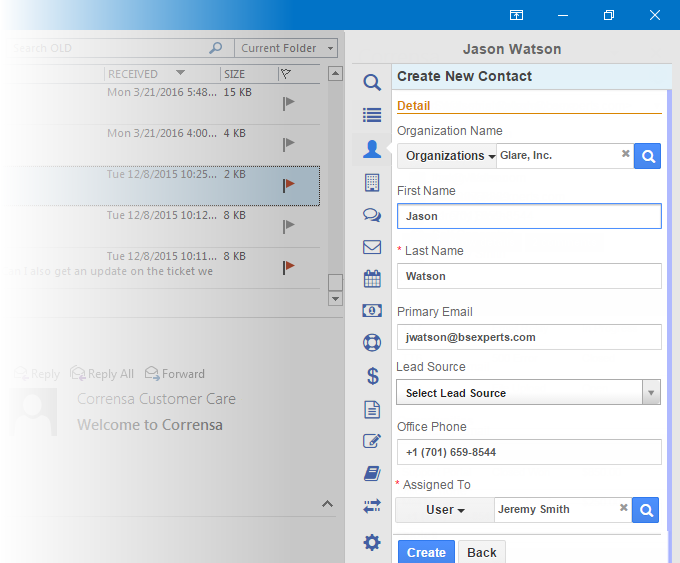 ---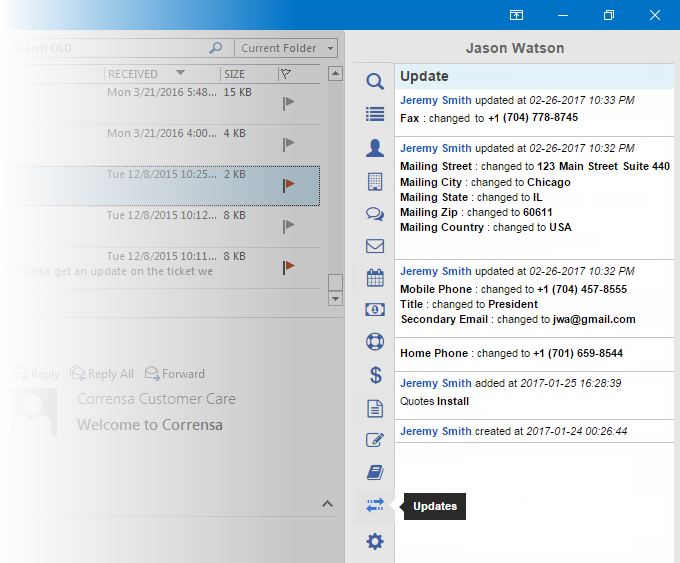 Field Changes
See field change history on the spot
- identical to what you would see in VTiger.
---
Search
Intuitive Search allows you to
lookup any VTiger record
from your email inbox.
Tip: Search fields can be configured in admin configuration area
.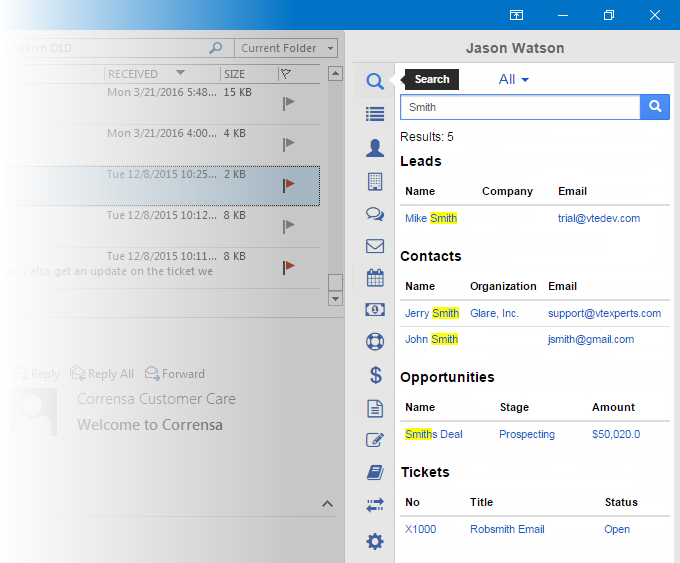 ---
Emails
Attach email messages to any VTiger record + upload attachments & post comments.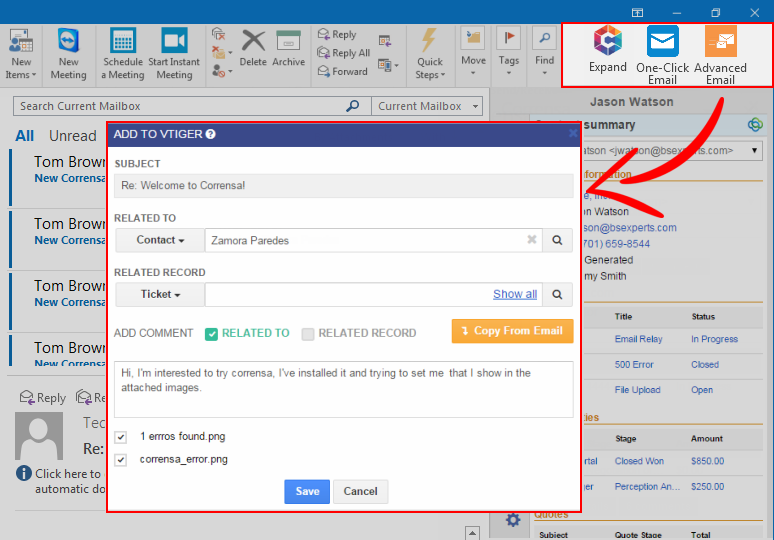 Advanced Email Linking
Attach emails
to leads, contacts, vendor, organizations as well as related records such as
tickets and opportunities
.
In addition to the email -
post comments & attach documents
with few extra clicks.
---
Email History
All email communication
captured is available at your finger tips.
Emails attached via plugin or sent/received in VTiger will also show up.
.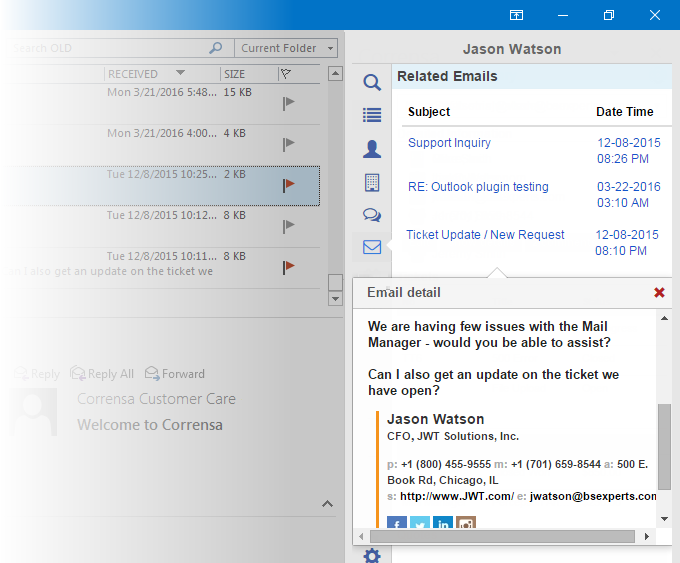 ---
Calendar
Schedule VTiger events & todos right from your email.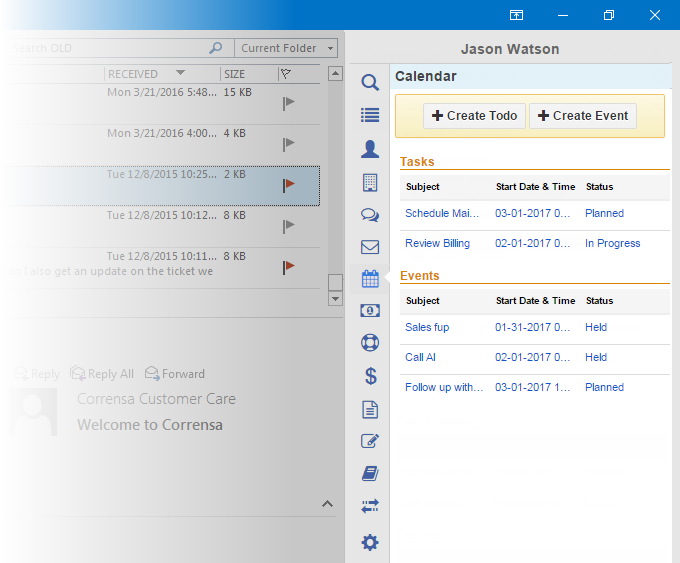 Calendar Events & Todo's
Quickly view all the scheduled events & tasks from VTiger. Click to open each activity or use buttons to
create new Events & Todos.