Signing up with Corrensa is quick and easy! First, you need to go to your Corrensa configuration area
Open your VTiger
Then CRM Settings(upper right corner) > Other Settings > Corrensa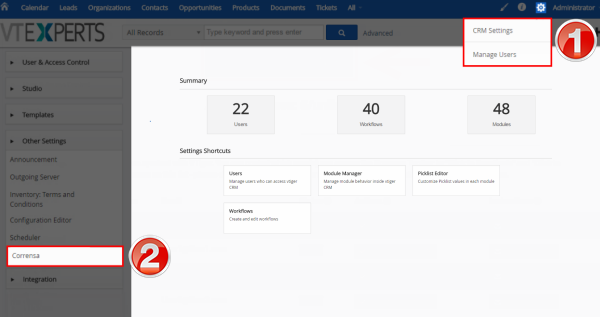 Next, click on the "Account & User Management"
You will then see a button "CLICK HERE TO SIGN UP"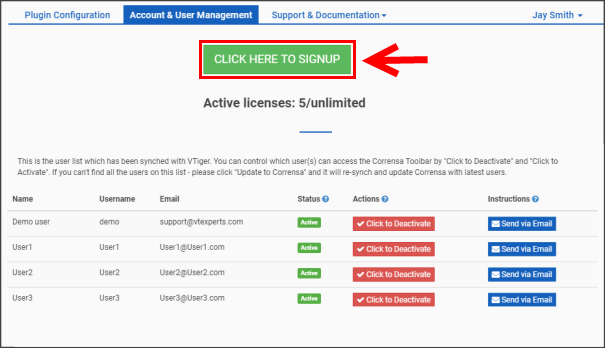 Once you click the button, the window will open up where your payment/billing information has to be put in. Few things to keep in mind:
"Active Users" is automatically prefilled with the number of active VTiger users.

NOTE: You can change the quantity, it is NOT required to purchase licenses for all users. If you have total of 10 users and only 5 of them will be using Corrensa – simply change the quantity to 5.

Payment Methods: We accept Credit Cards and PayPal. You will see an option to select credit card or paypal on the "Billing Information" block. If you can't find it – please click here for a screenshot.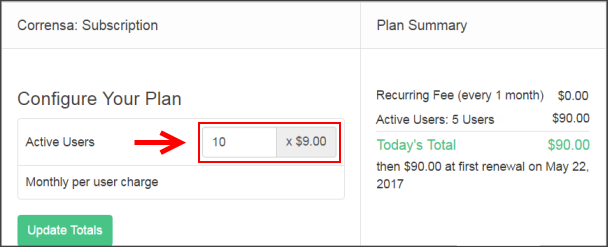 Once you put in billing information and the payment is successful – you will then be redirected to a another page and you will be required to refresh your VTiger page/browser window.
Finally, the "Active Licenses" will update and indicate how how many used/active licenses are available.
NOTE: As you sign up – all users will be set to Inactive and you will need to distribute the licenses manually. You will have to click "Click to Active" button to attach Corrensa license to each user. At any time you can deactive the user and attach the license to another user.